OldWarez
by root on Apr.28, 2010, under Apps, OldsCool, OldWarez, Telco
2 Comments
:hacking, modems, OldsCool, phreaking, Telco, the 80's, wardialer
more...
by root on Dec.30, 2009, under Apps, OldsCool, OldWarez, Telco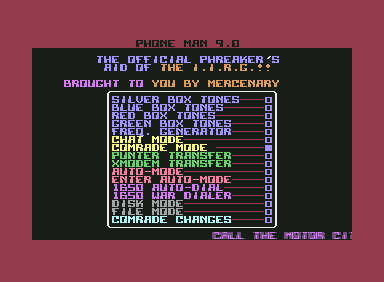 Well I put this blog up to be a site for those of us who are melancholy over the old school underground with an emphasis on the applications we used on 8/16 bit computers but so far I've not placed any of the promised reviews of those apps online.
Today that all changes, and I figured I would start things off with what I consider to be one of the best of the best of this breed of utility, Phone Man for the Commodore 64/128.
So without further delay, lets get on with review number one on 8bit underground. Please note that the actual download of this application for emulation will be provided on this sites forums which are located here.
Leave a Comment
:hacking, modems, OldsCool, phreaking, Telco, the 80's, wardialer
more...