BBS
by root on Apr.09, 2011, under BBS, Non-Fiction, OldsCool, Telco
So I really didn't intend this to be a book/movie review site, and it won't be – but here is another book mention that  I think is relevant.
I have been a fan of phonelosers of america since the extremely early days – though I must admit that when I first saw them I assumed it was just a joke and since my sense of humor is extremely dry and doesn't normally cross into my geek interests, I didn't pay a ton of attention immediately.
They persisted though and I quickly realized that the take wasn't just a comedy, but did involve some actual hacking and phreaking along with some anarchy (which has never interested me in the least – though I would think some people today would consider hacking and phreaking anarchy in themselves). They also eventually broke through my dry sense of humor barriers. I mean how can you read the "Dino" pranks and not absolutely be rolling on the ground laughing?? That story is priceless and worth the cost of the book in itself, even if I have read the story 100's of times online for free.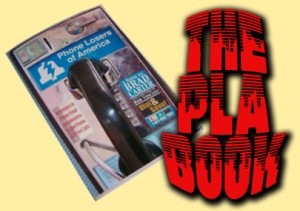 Anyway – so I was browsing the shelves at amazon and stumbled across the book and decided I had to have it. Yes the book is basically all of their stories put into hardcopy (or ebook) format, and I will also admit that the way the stories are presented is a little bit odd as they don't really follow any chronological order – but I have to wonder if this isn't just more zaniness that makes the PLA so funny to begin with transcending itself into the structure of the book.
So for the uninitiated, the PLA basically consists of tricks suck as prank calls that they record and also persist at for extraordinary lengths of time, fairly basic hacking/phreaking stunts, anarchy type things such as cursing over the PA system at a store similar to Wal-Mart, and changing signs at McDonald's so everyone who goes through the drive through gets to read them. At first those things might not seem terribly interesting for the type of people who might visit this blog – but unless you already know that you don't dig the PLA stuff, I would at least recommend you visit their site and check it out or read some excerpts from the book. I say that because I feel like those who enjoy the dedication to the old school that this blog promotes will see some of the same dedication to more primitive pranks and stunts in the PLA – even if it isn't *quite* as old school as what we normally talk about here. The PLA began formally in the early 90's, and still exist today.
One other thing about PLA that has always been somewhat interesting to me is that they have never really considered themselves a "group". I remember throughout my online history that this has always been somewhat of a source of frustration for lamers as they are always asking "can I be part of the PLA", to which the core founders generally respond "sure, start a bbs or site for your area and tell us what you do..". The core "group" has always been fairly small – RBCP and several friends. Everything else is simply community – not really anything organized by group activities.
I will once again caution though to not go into this book thinking you are going to read Mitnick/Poulsen level exploits of VMS or HP3000's. Go into it understanding that voicemail hacking, prank calls, and code abuse are the order of the day. The PLA made being a k0d3z kid cool again.. 🙂
Finally – and I did not know this until I read the book; RBCP is quite the nomad. I knew he spent some time in Illinois, which I believe is where he "grew up", but he also left home at 17 and moved to Galveston, lived in Austin, OH, OR, FL, and I believe SC as well. The thing that was even more interesting and actually raised my eyebrows was the fact that he spent a lot of time homeless – very young – and seemed to enjoy it due to the fact that his responsibilities other than finding enough food to eat and somewhere safe and hopefully warm to sleep, were none.
This takes serious balls, street smarts and maybe even a bit of insanity – which goes a long way to back some of the absolutely insane stuff that this book covers.
I have no association with PLA whatsoever other than enjoying what it represents for a long time now, and also being someone who purchased the book, but I will recommend it to anyone who has enjoyed what this blog has been put together for. I do not think you will regret the purchase.
For an excellent "one-two punch", I suggest not only purchasing this book, but also purchasing Commodork by Rob Ohara as well – a book about growing up with a C64, bbs's, long distance codes, and one again – a pretty big set of balls. Both books are pretty well written, easy reads, and if nothing else I applaud the authors for taking that big step and releasing novels about stuff they are passionate about.. Something I've been pondering and would really love to do some day.
Leave a Comment
more...
by root on Dec.24, 2009, under BBS, OldsCool, Other
At his age, there wasn't a whole lot going on the night before Christmas. His brothers had both gone out to hang out with friends and discuss what they would be getting for Christmas and drinking rum and cokes. In their eyes, a fine Christmas morning would be to find a new Stratocaster, or Holley Double Pumper carburetor under the tree.
But not him. No, he sat in his bedroom, the dull glow of the nineteen inch TV screen casting long shadows as he took another gulp from his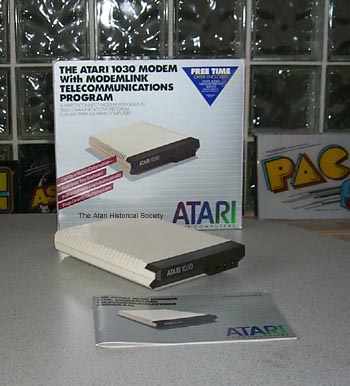 two liter bottle of Coke.
But it wasn't Max Headroom or Back to the Future cast across the screen – it was the user interface to TUFF Hacker by The Underground Fone Federation, and it was running on his Atari 800XL computer complete with disk drive. TUFF Hacker was a code scanner – a program that would dial a long distance carrier number, wait for a dial tone and then enter a code followed by a known carrier number. If the program detected carrier then it knew that the code was good and it would log it to file to be (ab)used later.
The only problem was that he had no modem.
Leave a Comment
:atari, modems, OldsCool, the 80's
more...