by root on Dec.23, 2010, under Other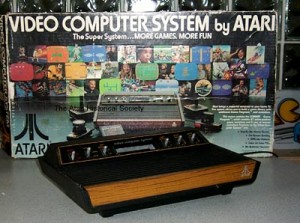 So we sort of come full circle with this blog in a sense as I believe that it was Christmas of last year that I basically got it "started" even though I think we had a post or two prior to the Christmas 2009 post, it was really the one that got me feeling nostalgic and wanting to write about all of the things that I remembered from computing, phones, etc from my youth.
So my image above that I believe comes from the Atari Historical Society (full credit due to them – great site!!!) because the 2600 was the first Atari hardware that entered my house, and really started my love affair with Atari that still exists today.
As I watch my nephew grow up, I am somewhat sad that he won't have the same feelings to look back on that I have today – but maybe it is a blessing in disguise as those feelings are so intensely happy that they are also pretty sad in the fact that they are gone.
With that said – I am going to enter 2011 with resolve to continue the blog, and likely get the forums back up and running as well. So look forward to more rambling late night after maybe a few too many vodka tonics or whiskey's on ice and pouring out of my blue heart to all 3 of my readers about how much I miss the old days as I allow the present to just slip by.
Yep, I'll be one of those who will complain about how quickly life passed me because I sat around and dwelled about an 8 year period or so and the smell of styrofoam and silica gel packets that I can still smell in my nose as if I had just unwrapped them from under the tree.
Merry Christmas – 2010.