by root on Feb.27, 2011, under Other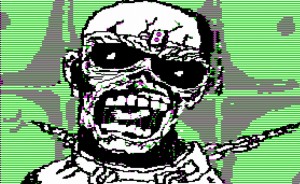 Tell me why I have to be a powerslave.
I really didn't mean for the entire dead of winter to pass without making a post to this blog.
Really.
I apologize for 1/3 of the content here consisting of my apologies for a lack of posting. I have kept this domain for another year as I have every intention of continuing down the path of documenting the underground of yesterday but it seems like as I get older the more things that are trying to pull for equal access to my time.
Work and my side work has been claiming my time more than anything else. Stress has been fairly high lately and there have been a few other things going on as well. Additionally, I have decided that collecting 8bit gear isn't really something conducive to me freeing up time and (more importantly) paying off my bills on the quest towards being debt free. With that said, I will be getting rid of most of what I have accumulated other than things that will likely be placed on display in my office such as my Apple Cat acoustic coupler, my Atari 830 Acoustic Coupler, my GameLine Modem, etc. Going on the block will be my prized C128-D, several commodore monitors, several C128's, about 4 Atari 1050's, an Atari 800xl that's been modified with additional RAM, and the list goes on.
This is not to say that I won't be looking out for special items, nor that I might not build a c128 or c64 hardware system again sometime, but I just haven't really found anything that I can't do within an emulator as it pertains to my endeavors of documenting the underground of the 70's and 80's.
I may also abandon my pet project of coding my own software database – which I did in Adobe Flex. Its not really the most flexible language despite its name, and the fact that it cant hook into MS Access, SQL, or any other true database natively is just kind of stupid. The way I am adding things to the database now is one of the reasons the project has stalled a little bit. The work flow is just slow and tedious.
Anyways. I will leave "all of you" with that to chew on as you wait for a real update from me, which I promise before summer. 🙂
One nice thing was that I did recently get a comment from a reader stating that he enjoyed the blog. I really appreciate that, and it was something that really made me want to continue on with this site.
See you soon.. Get your sunglasses ready! Spring is right around the corner.