by root on Mar.05, 2011, under Fiction, OldsCool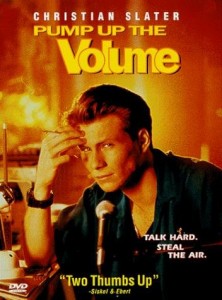 So it was 1990 or so and I hadn't been out of high school too terribly long. I was definitely still a "kid" in my own mind and was also still very much infected with the bbs/h/p/warez bug.
I don't really remember if I saw it immediately after it came out or if a little time passed, but I remember seeing the commercial for Pump Up The Volume and absolutely FREAKING.
First of all, I thought Christian Slater was a pretty good actor – but I remember the commercial showing him in his room, it was all dark and he had radios and gadgets and stuff all around. I really "got" that because that was sort of the way I always tried to keep my own room set up.
So we watch the movie and we see that its something a little different than most movies of teenage angst. As a matter of fact, the take on the movie was quite a bit different an approach than I have seen since either. We have an outcast who is new town.. Not just new in town but new in the environment as well as he came from "back east" and was now living in Arizona. Talk about a huge shock to the system right there if nothing else.
So our character Mark had been a ham radio guy "back east". Unfortunately his setup wont reach his friends, so through a little hacker motivation, Mark figures out that he can create a pirate radio station and begins broadcasting music, as well as commentary and even takes phone calls from others and reads letters that get sent to his PO Box.
He is a loner, and while they didn't really portray him to be much of a geek in the movie, he obviously had some geek skillz right? What to be running a pirate radio station and all.
Suddenly once people start hearing his show, he starts getting some more serious phone calls (which he was routing through his neighbors yard shed heheh!!) one ends up being a suicide and now Mark (our character) is somewhat involved indirectly with this suicide.
So from there he meets the "eat me beat me" lady which is a fairly hot dark haired actress who we are eventually treated to without her shirt on and the dialogue from that point forward mainly revolves around Mark thinking that "this has gotten too big.. I gotta quit.." and "Nora" telling him that it is his responsibility NOT to quit now – that too many people were counting on the show and that it had become something bigger than just a hobby in a  new town.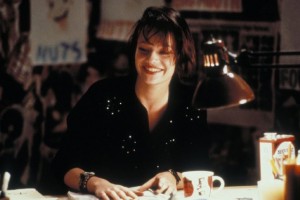 It is at this point that we go from a pretty cool movie to something a little more silly. Even at my young age in 1990 it was a bit silly.
So Mark and Nora decide that they're going to do one last broadcast while the FCC is out searching for Mark to shut his show down for good and (we assume) take him to jail.
So they steal his mom's jeep and mobilize the radio station and off they go with helicopters and FCC triangulation vans all trying to "catch" them. They even go off road a little bit – but all of this is in vain.
In the end, Nora holds a broken connection in her hands – stating she can "fix this" as she sort of presses the ends together. But Mark knows that there is no need anymore as he stands up – looking over the valley of high school students, police, FCC commissioner, etc..
He has a mic, and begins rolling with some banter about the airwaves are free and whatever you feel you should take them and share your feelings on the air.
I think the thing about this movie that touches me more than the sort of "identifying" I could use to compare my own high school years with Mark's in some ways is the fact that we were just on the cusp of entering into a new age. An age where not only geeks like me and so many of you engaged in online communication – but where grandmothers, dog catchers, harley riders, and whoever else wanted to have an online presence to "express themselves" could absolutely do so – and as it turns out, eventually do so quite easily.
And now, as we have debate of net neutrality, the whole thought of big brother comes knocking at the door once again, and we may have a total "comes around again" situation on our hands very soon.
So yes indeed.. Talk Hard, Steal the Air… And lets wait and see what the next evolution in the ever continuing saga of communications will bring us.
For anyone who cares – I would rate the movie probably 6.5 or 7 on a 10 scale.. Acting was actually pretty decent mostly – but as I mentioned the story seemed to disintegrate about 3/4 of the way through. I have been meaning to see if this was ever done as a novel. If so I will post about it once read.